Heather Kuhlken – Founder and Executive Director
Heather Kuhlken combines her experience as a biologist and educator with her passion for nature to train and mentor the next generation of conservationists while connecting families to nature and helping to create equitable access to nature for all. She is known for her collaborative, results-focused leadership style and an ability to bring diverse stakeholders together to create innovative programs and partnerships that merge science and conservation with a dose of outdoor fun. She is the author of the book, Adventures in Ecology: A Guidebook to Inspire Environmental Literacy, Outdoor Adventure, and Nature Connection for All which provides more than 1,100 hands-on, science-based lessons for people of all ages. Heather serves as the co-chair of #NatureForAll United States, as a Commissioner for Education and Communication with the IUCN, on the international task force for #NatureForAll, and as a member of the Green Schoolyards of America working group. She is also a published nature and underwater photographer with photos and articles appearing in Rich Louv's book Vitamin N, as well as in several articles for Texas Parks and Wildlife Magazine, Blue Ocean Network, and climate change adaptation materials through the Nature Conservancy. Heather continues to contribute to climate change adaptation and ocean conservation work and leads nature immersion trips to destinations around the world. Heather has a bachelor's degree in Biology and a Masters in Teaching secondary science from Rice University. She has research experience studying marine mammals and sustainable fisheries management in Baja, Mexico through the School for Field Studies. Heather also has research experience studying bird behavior at Rice University and the Houston Zoo. She is a PADI Dive Master and a National Outdoor Leadership School graduate. Heather is the parent of 3 boys who love to be out in nature exploring and traveling with friends and family.
Contact Heather 
Jennie Shields – Development & Operations Director
Jennie Shields has over 15 years of experience building relationships with clients, vendors and community.  She and her family have been members of Families in Nature (FIN) for many years and have seen personally the benefit of time spent in nature.  Jennie is grateful to be able to use her professional experience to be an advocate for FIN's success and growth.
Prior to her position as FIN's Development Director, Jennie worked as a Director of Production and Logistics.  In this capacity, she worked to create synergy between all areas of the company to increase efficiencies, streamline processes and increase overall sales and revenue. Previously, as an instructor and director at Le Cordon Bleu for ten years, Jennie honed her skills writing and managing educational curriculum, hiring and developing faculty and managing student programs.  Throughout her career, Jennie has sought to create partnerships that benefit business and community. Jennie has an undergraduate degree from Tulane University in International Politics and Economics and an MBA from Colorado Technical University.
Contact Jennie 
Jordan Joly – Program Coordinator
Jordan recently completed her her Master's degree in Anthrozoology after earning her Bachelor's of Science in Animal Behavior, Ecology and Conservation. She has been fortunate enough to conduct behavioral research in South Africa and spend a good deal of time traveling various parts of the world. She previously developed curriculum for STEAM programs focusing on conservation and sustainability for underserved Austin youth. She yearns to make environmental education and awareness accessible for all walks of life through engaging and relatable activities. She is extremely passionate about conservation and the natural world, and is so grateful and excited to work with FIN.
Contact Jordan 
Sheridan Ray – Senior Communications Intern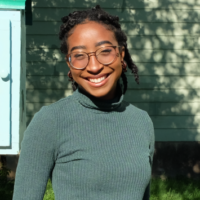 Inspired by a high school practicum course with Austin's Park Rangers, Sheridan has sought out opportunities to raise her voice — and those from her community — to support Austin's environmental movement. In 2019, Sheridan joined a team of twelve Community Climate Ambassadors to support the creation of the newly adopted Austin Climate Equity Plan. She continued exploring her passions by becoming a member of the 2021 Youth Forest Council with the City of Austin's Urban Forestry team. In the past, she has also been an intern with Keep Austin Beautiful, the Texas Nature Conservancy, and Austin's Park Rangers. These experiences helped Sheridan choose her course of study: she's now a sophomore at UT majoring in Sustainability Studies.
Contact Sheridan  
Alyssa Collinsworth – Senior Program and Research Intern
Alyssa is a current student at the University of Texas at Austin studying Kinesiology and Health and completing an interdisciplinary certificate in children's health. She wishes to connect her passion for the conservation of our environment to the impacts on our overall well being. In her free time Alyssa likes to volunteer outside as much as she can and likes to explore the natural world with her beloved dog and companion.
Ethan Kuhlken – Junior Teaching Intern
Ethan is a senior at McCallum High School, where he is majoring in classical guitar. He is interested in studying cognitive science and music in college and is currently working on his Humboldt Project researching the connection between time in nature and neuroplasticity and brain health.  Ethan is also passionate about rock climbing and can often be found in the climbing gym or out on Lake Travis deep water soloing. He has been involved in FIN for many years and joins the rest of the staff and volunteers in helping teach families to camp, learn about nature, and spend more time with family and community outdoors.