Families in Nature offers environmentally responsible, immersive, nature-rich travel and field science experiences for children and families through our partner organization Kuhlken Outdoor Education. Travel itineraries focus on the ecology of the area visited and includes volunteer projects that are science or community focused.
MARINELAB
Each year, we have taken a group of students and parents to Key Largo, FL  to Marinelab to study marine biology by snorkeling, doing labs and getting lessons on everything from coral biology to fish behavior. Students snorkel daily in sea grass, mangrove, and coral reef habitats.
If you are interested in the annual Key Largo trip, please email heather@familiesinnature.org and we will send you information on this year's trip.
COSTA RICA
In July 2014, we took a group of families to the Osa Penninsula in Costa Rica to learn about rainforest ecology, to see nesting sea turtles, and to experience one of the most biologically diverse places on the planet.
COZUMEL
In July 2015, we took a group of families to Cozumel, Mexico to see the Whale Sharks, nesting sea turtles and study coral reef ecology by snorkeling and/or Scuba diving.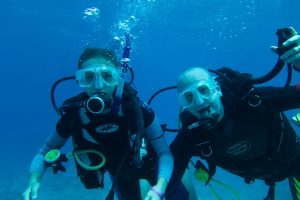 2016 Trips
Hawaii
Families in Nature Parents and Board Member David Kuhlken, Rich LeGrand will bike up the most difficult bike climb on the planet – Mona Kea on the Big Island of Hawaii as a fundraiser for Families in Nature.  Donors can donate a penny, a nickel, or a dime per foot of elevation!  The ride is from sea level to 13,800 feet in one day.  We can accept donations for this daring adventure on our website through the "donate" button.
Iceland
Families in Nature is heading to Iceland with a very small group to explore and photograph the amazing landscape.
Santa Fe Mountains 
Families in Nature will be taking families camping for a week in the Santa Fe mountains with Natures Wonder Camp and FIN guide Jennie Glass and Headwaters teacher David Heroy.
Marinelab
The 2016 Marinelab trip is July 30 – Aug 3, 2016 and is a combined snorkel and SCUBA trip.